Part I
Starting Fires
First a curl of birch bark dry as it can be,
Then some twigs of softwood, dead, but on the tree,
Last of all some pine-knots to make the kittle foam,
And there's a fire to make you think you're settin' right at home.
(Ernest Thompson Seton, Two Little Savages).
Fuzz-Stick (1). Every hiker or camper may test his skill with a knife by trying to whittle a fuzz-stick.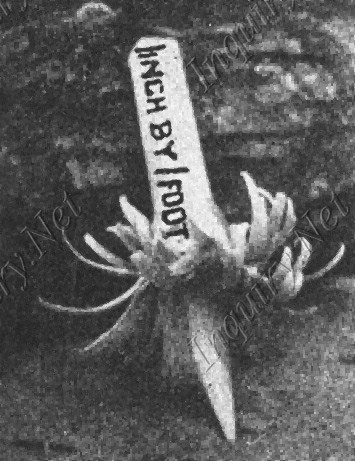 All that is required is a piece of dry wood (preferably soft), a sharp knife, and a little skill in using it. Point the end of a piece of wood about a foot long and an inch thick. Holding the pointed end, rest the other end against something solid (not your leg, unless you have a first aid kit handy), and whittle long thin shavings, leaving them attached to the stick. The trick of whittling so that the shavings remain on the stick can be easily accomplished ; pull up on the stick, and cut a little deeper as you near the end of the cut.
Fuzz-Stick Substitutes (2). Hikers without sharp knives and without ability to whittle (the woods are full of them) must use a substitute for a fuzz-stick. Gather a large handful of very small, bone-dry twigs, plant stalks, or weed tops, at least a foot long. Break off both ends of the bundle so that the sticks are of about the same length, and crack the middle across your knee. Hold the halves at an angle of about forty-five degrees, and with the ends scratch a depression in the ground so that the twig wigwam will stand rigidly.
1. What is the objection to starting a fire with paper or leaves? Did you ever see a real woodsman do it?
2. How are the lives of birch trees endangered when children are taught to start fires with birch bark?
3. What hardwoods are suitable for whittling fuzz-Sticks?

Fuzz-Stick Substitute
Pyramid, or Wigwam Fire (3). A pyramid fire is popular with novices who enjoy watching a big blaze. The expert outdoor cook is annoyed by the blaze because he usually prefers glowing hardwood embers. The objection to a pyramid fire for cooking is that the center falls to only a small bed of coals surrounded by blazing and smoking chunks. Hikers, however, should be familiar with this fire, since it is commonly used for starting other types of fires.
Erect one or more fuzz-sticks, or a fuzz-stick substitute, and set upright around it in wigwam fashion sound, dry wood varying from the size of your thumb to that of a lead pencil.

Pyramid or Starting Fire
When starting any fire, remember:
1. Hardwoods produce better coals than softwoods.
2. Split wood burns faster than round branches.
3. Fire burns upward; use long sticks.
4. Fire needs air ; leave plenty of space for it.
5. Lay the fire and have a supply of wood before lighting.
6. Conserve heat ; hang the kettle before lighting the fire.