by William Tomkins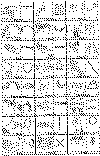 CO-RELATING SIGN LANGUAGE AND PICTOGRAPHY
All Indian language is highly figurative and poetical compared to ours, resembling the Chinese in its idiomatic construction, but I know of nothing that gives so complete an insight into the peculiarities of Indian thought and expression as does a thorough study of their universal sign language.
Whatever form of picture writing Indians adopt, it must necessarily be based upon the same general sequence of thought as their spoken or gestured language, and in this way alone sign language becomes of prime importance in all pictographic study.
Whether there is any direct connection between the gestured and pictured signs themselves is a question that has been largely ignored, the general presumption probably being that there is little if any relation between the two. With the exception of Garrick Mallery's monograph very little if any effort seems to have been made to correlate the Indian Sign Language and Indian Pictography. Perhaps the question seems too remote to merit serious consideration. But if something could be done to prove such a connection it would be of the greatest importance in view of the fact that so little is known of pre-Columbian America.
It is evident that the Indian pictographs and the more ancient rock carvings are the most important basis we have for a comparison of the life and habits of past races of early man in America with the Indians of today.
Some of the pictographic symbols which have been used for long periods of time by the Sioux and Ojibway tribes seem to indicate that further research may show a definite relationship between the gestured and written signs.
A few of the most striking examples supporting this assumption are shown on page eighty-six. The above is offered for the consideration of our readers, and we hope may point the way to still more important findings in this direction. "In primitive picture-writing, each sign meant a whole sentence and even more, the image of a situation or of an incident being given as a whole; this developed into an ideographic writing of each word by itself; this system was succeeded by syllabic methods, which had in their turn to give place to alphabetic writing, in which each letter stands for, or is supposed to stand for, one sound."
JESPERSON, the Danish philologist.
"Gesture language stands on the threshold of picture and sign writing, as it consists chiefly of successive and transient delineations of objects, phenomena and symbols."
PROF,. TERRIEN DE LACOUPERIE.
"Spoken sounds preceded written figures, and, before the invention of written symbols, dealings by means of knotted cords came into existence. These were followed by cutting notches on wooden materials, WHICH GAVE WAY, IN TURN, TO FIGURES REPRESENTING NATURAL 0BJECTS, AND FORMS INDICATIVE OF ACTIONS, states or relations, cut out into lines to serve as counterparts of the spoken names of the same objects, actions, states or relations. With these came graving knives, and tablets for graving upon, and this was writing, the whole object of which was to make speech visible."
TIA TUNG, 1300 A. D.
"Ideographic writing directs the mind of the reader by means of a picture or a symbol directly to the idea existing in the mind of the one who uses it, while alphabetic or literal writing is simply the written expression of the sound, and only indirectly expresses the idea."
PROF. C. J. RYAN, Theosophical University, San Diego.
"There is one great broad line that divides the nations and civilizations of the earth, past and present, in all their arts of expression. We may call it that of the ideographic or general, as against the literal or definite. It controls the inner form of language and of languages; it manifests in the passage of thought from man to man; it determines whether the writing of the people shall be hieroglyphic or alphabetic."
PROF. WILLIAM GATES, Peabody Institute.
See Also: