[ Back ] [ Home ] [ Up ] [ Next ]
Materials&Tools
Totem Pole Design
Totem Pole Stories
Camp Uses
Authentic Totems
Patrol Totems
Use of Color
Totem Gifts
Totem Paper Knives
Totem Miniatures
Totem Museum
Totem Contest
Preserving Totems
A Totem Talks
Bibliography
Native Skills
Totem Poles
Indian Sign Language
Indian Ceremonies
Indian Dance
Indian Songs
Birch Bark Dances
Birch Bark Songs
Birch Bark Plays
Indian Games for Boys
By Robert De Groat

THE LURE OF TOTEM LORE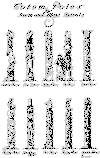 Do you like to whittle? Would you like to learn? Now is the chance. Every little trick in carving poles, both small and large, is included in this book.
By the time you are half way through it, you should have two-thirds of the little pole--the one you've always wanted for your dresser-finished. It really is simple, when it everything is explained step by step with plenty of clearly illustrated ideas. All your Patrol totems are included right in this book.
Perhaps you want to make some other kind of object--a tray, or a thunder bird for your fire-by-friction set, or even a large Patrol or Troop totem pole for your Council Ring. The possibilities are endless. We merely suggest enough to get you started. It takes only a few hours to finish a small object.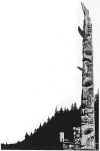 If anyone tries to tell you that the Indians worshipped totem poles you can tell them they are mistaken, for noted authorities state clearly that totemism is not a religion. It is the identification of a man with his totem, whether his totem be an animal, a plant or what not. It is a serious, though apparently common mistake to speak of a totem as a god and to say that it is worshipped by the clan.
In pure totemism among the aborigines, the totem is never a god and is never worshipped. A man no more worships his totem and regards it as his god than he worships his father and mother, or brother and sister, and regards them as his gods. He certainly respects his totem and treats it with consideration, but the respect and consideration which he pays to it are the same that he pays to his friends and relatives; hence when his totem is an edible animal or plant, he commonly, but not always, abstains from killing and eating it, just as he abstains from killing his friends and relatives.
MODERN ADAPTATIONS AND USES

IN CAMP
| | |
| --- | --- |
| | Patrol totems, Patrol tent. |
| | |
| --- | --- |
| | Headquarters building-interior decorations on beams over mantle, or on corner posts. |
| | |
| --- | --- |
| | Entrance posts, bulletin boards, gateways, sign posts. |
| | |
| --- | --- |
| | Council ring. |
| | |
| --- | --- |
| | Central feature in Older Boy ceremonial ring. |
| | |
| --- | --- |
| | Bulletin board supports and frame. |
| | |
| --- | --- |
| | Leader's or Campmaster's Den. |
| | |
| --- | --- |
| | Indian Village Longhouse (built on a small scale, using poles, as in the Haida and Longhouse of the eastern Indians). |
| | |
| --- | --- |
| | Mess hall. |
| | |
| --- | --- |
| | Weather vanes. |
| | |
| --- | --- |
| | Main rafters in camp museum. |
| | |
| --- | --- |
| | Trading post. |
| | |
| --- | --- |
| | Handicraft lodge. |
| | |
| --- | --- |
| | Tomahawks. |
IN WINTER QUARTERS
| | |
| --- | --- |
| | Troop den (possibly taken from camp, or miniatures). |
| | |
| --- | --- |
| | Patrol dens (Patrol totem and individual miniatures). |
| | |
| --- | --- |
| | Headquarters. |
| | |
| --- | --- |
| | Decorations in Community House. |
| | |
| --- | --- |
| | Decorations in Community City Hall. |
| | |
| --- | --- |
| | Craftsmanship gifts. |
| | |
| --- | --- |
| | Scout staves inscribed with individual records. |
| | Bird houses. |
| | Bird supports for houses or bird baths. |
| | |
| --- | --- |
| | Markers: Highway to camp, etc., sites, historic spots. |
| | |
| --- | --- |
| | RFD letter boxes. |
| | |
| --- | --- |
| | Garden decorations. |
| | |
| --- | --- |
| | Back of Mask Showing Rough Chiseling and Chipping |
See Also:
Hyperlinks Below: