by William Tomkins
A PICTOGRAPHIC STORY FOR OUR YOUNG FRIENDS
Here is a story that might be entitled, "Sioux Bros., Arrow Makers." It is told in the pictography of the Sioux and Ojibways.
To read this story, which is written on a hide, the reader begins in the center and reads to the left, following the circular course to the end.
This story begins with the two men, who by virtue of the connecting line between them, are brothers. Followed by an Indian and an arrow, they are arrow makers.
Next comes a series of lines illustrating tracks; so they "make tracks," or "go" to those three peaks which are obviously mountains. The head with the line going from the eye indicates that they are looking. Looking for what? For arrow head, or by implication, for material with which to make arrow heads. The story so far, therefore, would read:
"Two brothers, Indian arrow makers, went to the inountains to look for material for arrows."
It is implied that they found the needed rock, for the story goes on to say they built a fire-those three crossed sticks with flame about them, on the mountain to heat the rock. Then the figure of the man with the pail in his hand indicates that they poured water on the rock.
The next symbol is a "cache ;" a mound or hiding place in which many things are kept. This symbol is used to indicate "many." On heating the rock it broke up so they could get at the unweathered or underlying flint. The story therefore continues:
"They found a flint outcrop, heated the rock, poured water on it and thereby removed the weathered outer layer. They then obtained many pieces of good flint, which they made into arrowheads."
"They found a flint-rock, lit a big fire, heated the rock, carried water and poured it on the rock, and it burst into many pieces suitable for arrowmaking."
Then comes the sign indicating "to see," with the line pointing at a tree (from which they could obtain wood for arrows). Then follows an arrow pointing to an eagle, indicating that they then shot an eagle, which they killed-for the eagle is repeated, lying on its side. In others words, "They shot and killed an eagle to obtain feathers for the arrows."
After this, they "make tracks" again, and come to a lake, in which they catch a fish. The figure of the man with his hand to his mouth tells that they ate the fish.
Again they "make tracks" until they come to their home, or teepee. Freely translated. "They started for home and came to a lake where they caught a fish, after eating it, they went on until they reached home."
Next we see two Indians, one of them a chief, as indicated by the feather in his hair, surrounded by a lot of lines. These lines are other Indians sitting in a circle, and the whole is the picture of a council. The next pictures tell the reason for the council; a Cheyenne (Cheyennes are "finger choppers") with a lariat, a horse and a number of horse hoofs, indicates that a Cheyenne had stolen some of their horses.
Three lines followed by a sun indicates that the council lasted three days, after which they joined hands--made peace--and smoked the pipe of peace. The story therefore concludes:
"They found a council in session on account of trouble with the Cheyennes, due to the fact that a Cheyenne had stolen some of their horses. The council was held for three days, and resulted in their making peace with the Cheyennes, after which they smoked the pipe of peace and everybody was happy.

The characters in these pictographic stories are arranged in a spiral formation, the course of the spiral being from right to left, starting from right center and reading backwards. This form is used in Lone Dogs' Winter Count and certain other famous Sioux documents.


Interpretation of Above Pictographic Story
An Indian trader by the name of Little Crow went on a journey. He traveled for three nights until he came to a river. The reason he traveled at night was because he was in enemy country. At the river he secured a canoe, camped there that evening, and at sunrise the next morning started down the river and traveled two suns (days).
He now traveled in daytime, because he was in friendly territory. He was an Indian trader in shells, which were used for wampum and ornamentation. At the end of the fifth day's travel he reached the village where the shells were obtainable. He rested there for three days in conference with the chief, and as a result he traded for a large amount of shells, and at sunrise on the fourth day he loaded his canoe and started down the river and traveled for two days.
On the second day a storm came up, with rain and lightning. He saw the lightning strike a tree and set it afire. As a result of the storm he became sick, so he searched and found some medicinal plants and waited there a couple of days until he felt better.
He then traveled at night and hid away in the day time. He knew that the country abounded in game because he heard foxes and wolves. He finally reached home, though some days late. Twenty braves of the tribe came out to meet him, including their cheif, Standing Bear. Their hearts were glad as a result of his safe and successful trip, and they all had a very sociable time.


Interpretation of Above Pictographic Story
An Indian and his wife had a quarrel; he wanted to go hunting and she did not want him to go. He gave the sign of negation, would not do what she wanted, and he took his bow and arrows and started into the forest. A snow storm came upon him and he looked for shelter. He saw two teepees, went over to them, but found that they contained two people who were sick, in one teepee a boy with the measles, in the other teepee a man with the smallpox. He ran away as fast as he could and shortly came to a river. He saw some fish in the river, so he caught a fish, ate it, and rested there for two days.
After that he started out again and saw a bear. He shot and killed the bear and had quite a feast. Then he started on again and saw an Indian village, but as they proved to be enemies he ran away until he came to a little lake. While walking around the lake he saw a deer. He shot and killed it and dragged it home to his teepee, to his wife and his little boy. Death of an animal is indicated by the animal being shown in an inverted position, viz. upside down.
In case of a deer being shown by a set of deer horns, reverse the horns to represent death. Where a bear is shown by the bear's paw, reverse the paw with claws up to represent death.
In case of a person, have animal representing family totem shown upside down to represent death.





Interpretation of Above Pictographic Story
Two brothers, one of them a chief, by the names of Spotted Elk and White Beaver, together with their tribe, experienced a severe winter of deep snow and stormy weather, and three members of the same tribe froze to death. They suffered a famine and their wives were very hungry and their little girl, two years old, had the whooping cough.
They sent for the Medicine Man but he did no good and the little girl died. Everybody grieved greatly. Then the top man of the tribe had a conference with the wise man of the village who told them that the sun would soon come out, the weather would get warm, the rivers would run and the buffalo would come near to their camp and they would have plenty of food.
What he said came true and in three days the lookout on the hill signaled that he had discovered the buffalo. They secured a large quantity of meat which they cured on the drying poles and were quite happy, but they did not forget to place a flag of sorrow on the little girl's grave.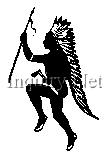 Interpretation of Above Pictographic Story
During the great famine of 1787 the Indians were forced, for a time, to live on acorns, so a great many Sioux, in desperation, organized a big hunt and started out headed by their Chief, White Bear. The weather was clear, fine hunting weather. The first night out they camped by a river. The Chief was filled by fear of famine to his tribe, Moro, his heart was very sad. He therefore called his council together and told them they must go to the Medicine Lodge and make Hunting Medicine for two days and nights.
At the end of that time a friendly Cheyenne Indian by the name of Drags-the-Rope, came into camp and said that he had seen a great many antelope. They believed him and a large party went out on the hunt and secured a large amount of antelope meat.
The Chief, however, was disabled. A wild horse was dragging a rope which caught him, but he drew his knife and cut the rope and was saved, and all the tribe was happy. They went back to the village and took the antelope meat along. Then they all went to the Medicine Lodge and gave thanks for the successful hunt.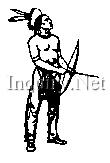 See Also: