[ Back ] [ Home ] [ Up ] [ Next ]
Materials&Tools
Totem Pole Design
Totem Pole Stories
Camp Uses
Authentic Totems
Patrol Totems
Use of Color
Totem Gifts
Totem Paper Knives
Totem Miniatures
Totem Museum
Totem Contest
Preserving Totems
A Totem Talks
Bibliography
By Robert De Groat
Craftsmanship Gifts
Any number of objects may be made and a personal totem or story connected with each one. The following list would be good for your room on the dresser, table or wall: trays, tie-racks, paperweights, letter-openers, small boxes with carved tops, bedposts and homemade furniture (if you have your own room exclusively), book ends, pen trays, ink stands; and for older people, ash trays, stands for high trays, floor lamps, table lamps and pipe racks.
Tomahawks
These objects are simple to carve and appeal to a good many fellows. Besides being useful as part of Indian War Dances in Camp Pageants, they make an excellent decoration for a boy's room, especially if he has carved his animal totem on some part of the head or handle.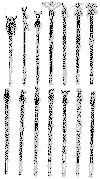 By searching around for old roots and parts of stumps, very grotesque and original effects can be procured. Fox heads, wolf heads, buffalo heads (using protruding roots and branches as horns and ears) are among some of the animals that can be cut into the tomahawk, or, as Ralph Hubbard calls it, "the headache stick."