by Bob Geier
If you're thinking about experimenting with lightweight Patrol equipment, I'd encourage it!
I'd suggest taking your PLC or Venture Patrol and trying it with just them for a bit, then let them make changes as they see fit. It helps you to build a cadre of boys with experience to ease into the transition for the younger guys.
Here's a quick cut at our Patrol cooking gear setup. Patrols have two "Cook Groups" worth of gear, called a Cook Group Kit. The kit can either be used as separate gear in a backpacking/remote/small group environment, or cooked with together in a two-burner arrangement.
We use this Cook Group Kit on all outings: car camping, canoeing, climbing, backpacking, whatever.
Cook Group Kit

(A "Cook Group" is 3-4 people, with 2 Cook Groups per Patrol).


MSR Dragonfly

1 MSR Whisperlite or Dragonfly Stove.
Whisperlites are cheaper and a bit easier to field-strip, Dragonflies are a bit more stable and have a much better simmer control.


(Factory Stove Pad)

1 Homemade Stove Pad
Try a simple plywood square. For snow and unstable ground (sand, mud).


MSR Windscreen

1 Stove Bag, Windscreen, Lighter, and Field Repair Kit.


MSR Field Repair Kit

1 Cook Spoon
1 Metal Spatula (small)
1 Pot Grip
We haven't found any great ones. Would love suggestions.
1 Banks Fry-Bake Expedition Aluminum Pan.
These are pricey but fantastic.
1 Bake Kit.
The backpacker's version of the Dutch oven:

Each Bake Kit consists of a heat diffuser and extra-large "hood" from Backpacker's Pantry/Outback Oven. We purchase the parts separately because we use them with the beefier Banks Fry-Bake pan, above.

1 Spice Kit, with a few other essentials.

1 Large lightweight "Thelma Fly."
The large model from Crazy Creek:

http://www.crazycreek.com/ba-tarp-lite/

1 fairly heavy duty Aluminum 3-qt Pot with Lid (no handle).
These we got from someone at Calphalon years ago. They're a bit heavy, but bullet-proof.

1 smaller 1.5 qt Sauce Pot
Mixed manufacturers, acquired over the years, usually only brought when needed.
In addition, each boy owns his own "Ditty Bag" consisting of:

| | |
| --- | --- |
| | Lightweight plastic Bowl |
| | Spoon / Spork, |
| | Optional small Insulated Mug. |

The ditty bag is also a good place to store other "smellables" in bear country.

We use this Cook Group Kit on all outings: car camping, canoeing, climbing, backpacking, whatever.
Whatever we do, it should be aimed at learning on the part of the boys, not on efficiency.
It's important to understand that in our case, it was the boys who made all the decisions to change from the "old way" to the "lightweight way" over the years. They decided to dump the chuck boxes, they decided to abandon big dining flies (well, actually, they just stopped using 'em), they chose to get rid of the propane gear. I submit that if it's not possible within a troop for the boys to experiment and to change he way the troop works, then we aren't really doing youth leadership, we're just faking it.
I don't think using gear that's efficient and flexible has much downside in terms of our goals. Each boy our way ends up doing more cooking of different meals, but for fewer people. They do less cleaning overall, but they do some cleaning every meal. I see a lot more baking with our setup than I ever saw with propane, but our guys aren't very good fire-builders.
The biggest issue is opportunity cost. Can you learn teamwork lugging gear around? Sure, I guess. The real question is "Can you learn teamwork better if you used that time for something else," like rigging a low-ropes course together, or navigating/backpacking up a ridge with hikers of different skill and endurance?
Lightweight gear has allowed our 11-year-olds to backpack on skis 2 miles into a snow camp... lots of teamwork needed, lots of leadership demanded.... the Patrol Method in spades.
We rarely bring cans, and only when "plop" camping. We sometimes bring coolers (one SMALL one per patrol) when "plop" camping; we have them anyways. We also have some small plastic cooler-like boxes for foodstuffs in areas where there is a known critter problem.
Remember we live in the north. Got all the refrigeration we need for half of the year anyways! Refrigeration is only needed for "live" meats/proteins in any event.
Our guys tend to design and run their own high adventure stuff. Last time we were at Philmont was '91 or '92, and we ran with the small cook groups. Eight is way too big; the Philmont packaging back then was for four. If it's changed, that's too bad.
Why the grouping of 3-4 per stove? The biggest reason is that it is more consistent with Leave No Trace, particularly in undeveloped sites. Eight people create a lot of impact on one spot over a weekend.
Second reason is speed and efficiency. Two groups working in parallel get meals done faster, and you double the number of guys who get experience cooking. Even if they're cooking as a patrol, different guys are doing different parts of the meal (teamwork...). Pot size stays manageable (3-liter), bake pan makes a perfect "generous" amount in one round, etc.
Particularly in the winter, trying to cook larger amounts gets exponentially harder as the stove is working uphill against the elements (That's another reason for the lightweight gear; propane is really frustrating in the deep cold).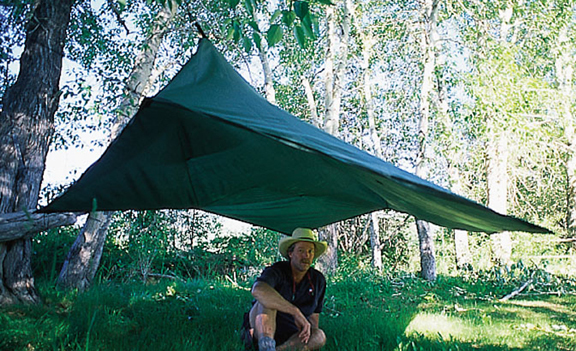 We use the Crazy Creek Big Area Tarp Lite, which all of our Scouts call "Thelma Flies." Thelma Youngs was a grand old curmudgeonly lady, the head seamstress at NOLS, who originally designed this particular fly.
A Thelma Fly will sleep 3-4, and each of our patrols has 2 of them. They're also great to cook under.
Crazy Creek I believe will do youth group discounts if you contact them directly. You can also find discounts through other vendors. They also have a slightly smaller version.
For an individual fly, the Canadian version of REI (called Mountain Equipment Co-op or MEC) used to have a few really lightweight, simple, and tough MEC-branded silicone/nylon flies. I've got one that I use personally. I've had it for at least 10 years and it looks as good as the day I bought it. Packs up to the size of a baseball, sleeps 1-2 or makes for an amazingly grand tent vestibule.
Thelmas are not a wing style rain fly. They're closer to an A-frame.
Primary attachment in simplest setup is at the middle of the short axis, about a foot and a half back from the edge, and then at the four corners. This leaves some material at each end hanging vertically as a mini-wall, offering additional protection.
So what you get is something that looks very much like a house roof. Peak at the centerline, sloping down on each side, and with a segment of fly hanging down vertically to close each end. They're shaped flies, rather than truly flat tarps.
No problems at all with water-proofness. Attachment points are sewn and seam-taped, so with age they can leak but that's dealt with by just a touch of SeamGrip. In sideways rain you have to rig them differently, but we've had them out on exposed shoreline in full Lake Superior gales and been cozy.
The main problem with flies is mosquitoes/bugs in the summer time, and sometimes first year scouts who are shy/squeamish about sleeping out like that. Still, our scouts seem to prefer Thelmas to tents overall.
See Also: