by Ernest Thompson Seton

The Degree Badge is an embroidered
square with a horn on each side.
The Degrees in Woodcraft are given because of general all-around proficiency. They cover all phases of Woodcraft and enable Woodcrafters to work along lines which arouse the most interest and give the greatest pleasure. Some subjects are of interest to only one sex, but all are open to both sexes.

The Blanket Degree Badge is the Zuni Coil.
This list is made by the Council of Guidance. The degrees are founded on world-wide standards, and with the help of the best experts. The Council will gladly consider any suggestion but it must be understood that no local group has any power to add to or vary the degrees in any way whatever.
Details of the inner squares from above Degree Badges:

Additional images from a 1920 edition: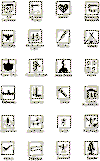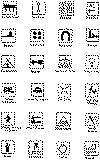 Claiming Degrees
A Degree may be claimed at Council after application has been made on a properly filled form [below] which sets forth the claim with sufficient witnesses to prove legally that the test was fairly taken.
The Degree Claim is certified by the Chief and Tally Keeper of the Council conferring it, and returned to the applicant, but record is kept in the Tribal Tally.
None but Chartered Tribes in good standing have power to award either Coup or Degree Badges.
For Further Information, See: The Birch Bark Roll